Columbus, WI Car Dealerships
Posted Friday, Jul 30, 2021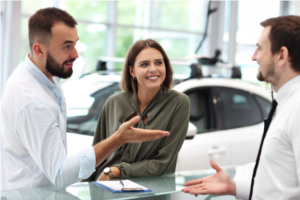 Are you a resident of the Columbus, WI community that's looking to purchase a new vehicle? Are you hoping to rely on the dealership's knowledge to help you find your next car? If so, then you'll want to find the right Columbus, WI car dealerships to work with.
Doing so will ensure that you're in the right hands. There are many car dealerships to choose from, but not all of them can deliver the quality and transparency that you would expect. 
See below for an in-depth guide highlighting the factors that you should be looking for when searching through car dealerships in Columbus, WI.
1. Elaborate Inventory
Many interested car buyers regret choosing the wrong car dealership. They often don't take the time to consider the dealership's inventory and how it will affect their car search.
Think of it this way: the fewer cars and manufacturers that the dealership carries, the more you're limiting your options. That's like going to a restaurant where you hate everything on the menu. You're forced to eat something you don't care for.
Here at Gates Auto, we pride ourselves on being Wisconsin's largest indoor showroom. As a part of that, we take tremendous pride in offering clients a plethora of options in our inventory. We have trucks, SUVs, sedans, coupes, wagons, and hatchbacks in any brand name that you can think of.
But be warned: a large inventory isn't enough. You need to make sure that the car dealership's inventory is full of quality options. 
Gates Auto has coveted relationships with car dealerships that have the highest standards in the area. We purchase pre-owned vehicles that are fresh off their lease agreement or were traded in for a new car, which guarantees quality for all of our clients.
If by some chance you don't find the car you're looking for in our inventory, you can use the car finder on our website and we'll help you look for the car you have your eyes on.
2. Customer-First Mindset
Can you confidently say that you've found a Columbus, WI car dealership with your best interests in mind? Perhaps you've been burned in the past by a dealership that upsold you. 
There are many Columbus, WI car dealerships out there, each of which can be put into one of two categories. They're either focused on finding their customers the best car for their needs or focused on filling their wallets with as much money as possible.
How can you be sure you're connecting with the former? Reach out to them to inquire. When you speak with them on the phone, do they seem legitimately interested in answering your questions? Do listen to your concerns or just try to talk over you? Are they putting things in terms that you'll understand?
You can also gauge the dealership's priorities by the condition of the cars they sell. Reputable car dealerships in Columbus, WI focus on providing their customers with value. That's why we're picky about the pre-owned vehicles we purchase from other dealerships. We want you to have the best options available.
3. Financing Options
Everybody enjoys the searching part of the car buying process. It's when you get to imagine yourself driving your dream vehicle! However, very few look forward to the financing aspect of it. Talk about a buzz kill!
If you find the right car dealership, then the financing won't pose an issue. Trustworthy dealerships are honest and upfront about the financing options that they have available. That's why we offer you the chance to apply for credit or get pre-approved right from our website. 
That way, you have a firm idea of how many vehicles you can afford. This will help you filter down your options. If a dealership avoids talking about financing until the very end, it could be them trying to stretch you out for as much money as possible.
4. Positive Reputation
If you're looking for trustworthy Columbus, WI car dealerships, then allow the members of your community to be your guiding light by reading through online customer reviews.
Customer reviews allow you to get more insight before you reach out to a dealer. You can learn about their reputation with their clients and whether those customers recommend them to others in their situation.
Do the customers seem satisfied with the service they received? Are they happy with the car they purchased? Were there any noteworthy setbacks that they mentioned? Did the clients feel hustled? All these answers will help you find the right fit.
5. Informative and Insightful
If a car dealership truly has your best interests in mind, they aren't hesitant to dish out helpful information. One telltale sign of a good dealership is whether or not they have a blog on their site with useful information.
Take notice of how informative the dealership is before you schedule a test drive. Anyone can spill useful facts once the customer is on their lot. Only customer-friendly dealerships are willing to hand out their expertise for free.
If a car dealership is willing to help you navigate the car buying process from the get-go, it's a clear sign that they have their priorities aligned the right way.
Find the Best Columbus, WI Car Dealerships Near You
Now that you have seen an in-depth guide on how to find the best Columbus, WI car dealerships in your area, be sure to use this information to your advantage.
Take the time to read this article for more information on the 5 factors you should consider when choosing a used truck for sale in Wisconsin.
To get started, please feel free to reach out to us via phone at 920-463-3100 and we will be happy to help you further.