Gates Used Car Inventory: What's On the Floor?
Posted Friday, Oct 29, 2021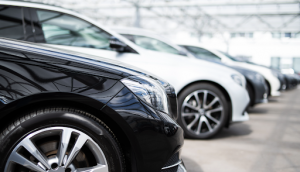 Shopping for a used car can be a little overwhelming these days. There are so many dealerships, and so much inventory, it's hard to know where to start. 
But if you're in the market for used cars in Columbus, WI, it's time you stop by Gates Auto. With the largest indoor showroom in the state, we're sure to have something that will catch your eye. 
Keep reading to see if the car of your dreams is a part of Gates used car inventory. 
Gates Used Car Inventory: A Look at What's on the Floor
If you're searching for a used vehicle in Wisconsin, there's really no better place to go than Gates Auto. 
We've got a comprehensive used car inventory that includes some of the finest pre-owned vehicles in the state. Whether you're looking for a heavy-duty pickup truck, a luxurious SUV, or an everyday sedan, Gates Auto has the used car you've been dreaming of. 
So here's a look at a selection of our used car inventory that's on the floor right now. 
Pickup Trucks
Used pickup trucks are always among the most popular of the used vehicles we have on sale. 
They combine a spacious, comfortable cab with the strength and sheer heft to haul heavy loads and tackle the toughest terrain. Here's a selection of the fine used pickup trucks we have for sale: 
2017 Ford F150 Black Lariat Sport
This beauty isn't just a used pickup truck—it's a work of art. 
It has low mileage and comes equipped with a V8 Flex Fuel 5.0-liter engine. It features a rough country lift, and with its 4WD 6-speed automatic transmission, there are precious few places you won't be able to go. 
It also comes with a black-and-red leather interior, which matches the exterior color scheme. Plus, the extensive aftermarket additions make this Lariat Sport one of a kind. 
2018 Ram 1500 Crew Cab
This red sport pickup truck comes outfitted with the very best available options and everything you need to go off-road. 
First, it's been lifted for rough country travel—an $8,500 aftermarket upgrade! It has a 4WD 8-speed automatic transmission, and it features a V8 HEMI engine. 
Best of all, its mileage is almost 10,000 miles below the market average. Stop by Gates Auto soon to check out this magnificent Ram pickup. 
2017 Ford F150 Supercrew Cab
If you're looking for something different from the above offerings, and at a more affordable price point, come check out our white Ford XLT pickup. 
It's hard not to fall in love with this truck. It features an attractive black-and-white paint scheme that will turn heads wherever you go. Plus, it comes with a five-and-a-half-foot bed that's more than able to accommodate the largest loads. 
But our favorite feature is the V6 Ecoboost engine that helps you get the most out of this truck's performance. 
2018 Chevrolet Colorado Extended Cab
This red hot 2018 Chevy Colorado features a 6-speed automatic 2WD transmission and a roomy cab. It's no-frills, but it has everything you need to get the job done.
And with an efficient 20/26 City/Highway MPG rating, this pickup is perfect for getting around even with skyrocketing gas prices. 
2014 GMC Sierra 1500 Double Cab
Finally, let's take a look at our 2014 GMC Sierra. 
The first thing you'll notice about this handsome pickup truck, aside from its incredible bronze metallic paint job, is its rough country lift, tires, and bumper. This monster can take you off-roading like nothing else in our inventory. 
With an odometer that's over 20,000 miles below market average, this is a deal that's hard to beat! 
SUVs
That was just a sampling of our fantastic selection of pickup trucks. 
But if a sports utility vehicle is more your speed, we've got you covered. Our Gates used car inventory includes a substantial selection of quality pre-owned SUVs. Here are some of our favorites. 
2019 Cadillac XT5
This beautiful luxury SUV has low mileage, and it features an AWD 8-speed automatic transmission. This one's priced to sell, so check it out today before it's gone! 
2016 Porsche Cayenne
If you're car shopping for a luxury SUV, you can't overlook this dark blue beauty. 
Porsche is renowned for its commitment to the very finest luxury vehicles, and it consistently ranks as one of the top car manufacturers. And you can see why when you check out this 2016 Porsche Cayenne. 
The interior is tricked out with all the luxury accessories you've come to expect from Porsche, with a beautiful leather interior. Plus, it comes with an AWD transmission—critical for those icy Wisconsin winters. 
Stop by Gates Auto today to check out our 2016 Porsche Cayenne. 
2014 Nissan Xterra PRO-4X
If you're looking for a more utilitarian used vehicle, this fine 2014 Nissan Xterra has you covered. 
It features a 4WD 5-speed automatic transmission and rugged construction for off-road adventures. It also comes with more modern conveniences, including a backup camera and Bluetooth wireless connectivity. 
Sedans
Finally, let's take a look at some of the sedans we have among our used car inventory. These cars come in all different makes and models. This is just a brief sampling of our large variety of quality used sedans. 
2016 Cadillac XTS
Our 2016 Cadillac XTS features a mileage count that's nearly 5,000 miles below market average. It also has numerous high-tech accessories, a luxury dark leather interior, and an AWD 6-speed automatic transmission. 
2014 Dodge Charger
If you're searching for something with a little more muscle, come check out our black 2014 Dodge Charger. It has an odometer reading that's over 8,000 miles below market average, and packs a punch with a V6 3.6-liter engine. 
Search Our Inventory Today
The bottom line is this: the Gates used car inventory is the best in the state. This is in terms of both quality and selection. 
We've only given you a taste of the many fine used cars we have on our showroom floor. If you see something you love, go ahead and contact us today, and we'll do everything we can to get you in the car of your dreams.