How You Should Go About Buying a Car in Wisconsin?
Posted Saturday, Aug 28, 2021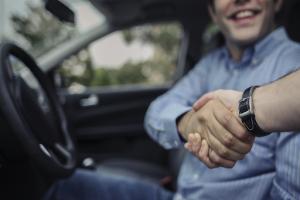 Are you ready to purchase a new or pre-owned car, but you're terrified of the process? You're in luck because purchasing a car doesn't have to be a stressful experience.
With the right knowledge and some research, you'll be able to walk into Wisconsin car dealerships with confidence. Even better, you won't be paying more than you can afford years into the future. 
Read on to learn all about buying a car in Wisconsin from start to finish so that you don't experience buyer's remorse! 
Consider Your Priorities
Before you even begin the car buying process, we recommend taking some time to consider your priorities. For instance, are you interested in a practical vehicle that can take you from point A to B with the most efficient gas mileage? Are you looking for used trucks for sale in Madison, WI that are able to capably haul lots of material?
If you have a growing family, you may want to prioritize a vehicle that has excellent safety ratings and room for children and family. Lastly, you may be more interested in luxury cars that project a certain image. With this kind of priority, you have to expect to stretch your budget or have excellent credit for good financing deals. 
Narrowing Your Search
Once you have a small list of cars you're interested in, it's time to narrow down your search. You can use Edmund's side-by-side comparison tool in order to compare ratings, warranties, prices, features, and more. This may spur you to do more research on the cars you're considering or even add a new car to the running. 
Know Your Budget
It's important that you know how much you'll be able to finance per month for a car as well as your credit. You'll find that even if you have poor or bad credit, there are still bad credit auto dealers in Wisconsin. This just means that you'll need to put down a larger down payment in order to reduce the monthly cost of the car. 
However, you can also wait in order to increase your credit score by paying your credit cards on time. Taking the time to save up for a large down payment can also help you avoid future issues with cash flow. 
Here are a few factors to consider: 
The trade-in value of your current car

How much you still owe for the car

The amount of savings you can put down

How much you're able to pay per month for 60 months
Of course, choosing a car with a low MSRP, either new and used, will help if you have a strict budget. 
Owner Opinions
When it comes to car buying tips, you'll also want to take some time to read the reviews of the cars online. You'll find that most people are honest when it comes to their experience driving the car, but pay attention if they give the car a negative rating. Does this seem to be a pattern for the car you're interested in, or is it a subjective detail that doesn't matter to you? 
For instance, you may find that one person doesn't like the style of the interior. However, if you find multiple reviews that question the safety of the car, this is a good indication to stay away. Talking to friends and family about the car is also a great way to gather more insight.
They may own the car you're interested in or know someone who does. 
Finding the Right Price
Knowing how to buy a car all starts with knowing the right price. Once you've found a car that matches your priorities, budget, and has decent reviews, it's time to do more research into the price. You'll find that the more knowledge you have, the easier it will be to negotiate down prices at the dealership. 
Invoice Price
This is one of the most helpful pieces of information to have, as it tells you the lowest price a dealer is able to go while still making a profit. This is the price you're aiming for, and you may even be able to go lower through incentives or seasonal discounts. 
MSRP
The MSRP, or the Manufacturer's Suggested Retail Price, is the one you're familiar with and the one that's required to be displayed on every vehicle. This is the price that's set by the manufacturer. 
Fair Purchase Price
This is a new pricing tool that is updated weekly. It shows you how much consumers are paying for a car depending on the market conditions. Knowing this price will give you peace of mind, as you'll know that the price you're negotiating for is one that's common. 
The Market
It's also important to keep in mind that market conditions can make the price fluctuate. Late-model vehicles, overstocks, and vehicles that are out of season may get you a deal. You may also find that making deals near the end of the month is easier, as dealers have monthly sales quotas that they're always trying to achieve. 
Buying a Car in Wisconsin: Starting the Journey Right 
Purchasing a used or new car all starts with research. Consider your priorities when it comes to safety, aesthetics, size, and more. Then calculate how much you'll be able to afford per month. Once you have a shortlist of cars, remember to do more research on the MSRP, fair price, and invoice price of the cars so that you can negotiate a good price with your dealer. 
You may also want to wait in order to increase your credit or for market conditions to improve. You'll find that by willing to give it time, you'll find a car that you'll love for years. 
When it comes to knowing where to buy a car in Wisconsin, try Gates Auto, the largest indoor showroom in Wisconsin. Buying a car in Wisconsin doesn't have to be stressful. Get prequalified with us today without affecting your credit score!