Navigating Bad Credit: Auto Dealers Wisconsin Trusts
Posted Sunday, Aug 15, 2021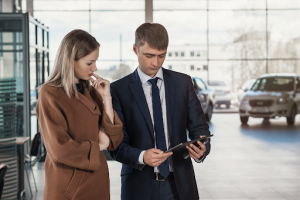 Are you looking to buy a used car in Wisconsin? Do you feel like your options are limited due to your bad credit score? If so, then you need to learn all you can about finding the best bad credit auto dealers in Wisconsin. 
Doing so can help you get your hands on a high-quality used car or truck, regardless of what your credit currently looks like. You'll be able to find a dealer that you can trust, who gives you the chance you deserve.
See below for an in-depth guide on how to navigate bad credit and still buy the car you've always wanted.
Can I Buy a Car With Bad Credit?
The short answer here is yes. However, there is a caveat to that statement. If you intend to purchase your new car or truck with cash (or mostly all cash), then you have nothing to worry about.
The dilemma comes when you have a bad credit score and are looking for someone to finance your purchase (give you a car loan). 
You'll more than likely need to find some sort of financing to support the purchase, but here's the problem: most lenders see those with bad credit as a huge risk. They'll either deny your application for a car loan, lower the loan amount you're approved for, or raise the APR rate on the loan.
Fortunately, there is another way. Here at Gates Auto, we pride ourselves on being the best of all bad credit auto dealers in Wisconsin. We allow you the opportunity to apply for credit right on our site.
To apply, you need only fill out some key information, such as:
Your name, address, email, and phone number

Driver's license information

Residential information (housing time, how long you've lived there, your rent/mortage cost)

Employment information

The vehicle from

our inventory

that you're interested in

Information regarding your trade-in (if applicable)
Once we have all that information in front of us, we'll get right to work on getting you approved and situated with the car you had your eyes on.
How to Create Options for Your Next Car
If you've been shopping around for a new car or truck with bad credit, you know how limited your options can be. In fact, some of the options might not even be close to the type of car you were hoping for.
In that situation, the question needs to be asked: how can you create options for yourself with bad credit? 
A big part of that is getting pre-qualified through bad credit auto dealers, such as Gates Auto. By getting pre-qualified, you'll be able to see your options right then and there. No more getting your hopes up, than weighting your bad credit send it crashing down.
You can get pre-qualified online right away on our site. We just need to know some personal information, a bit on your residence situation, how much you make with your employer, and the down payment you expect to have.
After that, we'll show you all of the options you have from our inventory. This process won't affect your credit score in any way. You don't even need to give us your social security number. All we need is the bare bones to find you a variety of options for your next car.
Ways to Help Get a Favorable Car Loan
Financing is always the biggest hurdle to jump through when buying a new car. It can get even more complicated if you have bad credit and go through the wrong provider.
Gates Auto provides you with a way to get your hands on a premier car or truck, without having to endure rejection after rejection from car loan lenders. 
That said, there are a few things you can do to get a favorable car loan rate, even if you have bad credit. See below.
Save Up for a Higher Down Payment
Having more cash to place on a car upfront will always help in finding favorable car loans. The more you have to place on the car, the less money you need to borrow for it.
For those of you that still have a car, try to hold off on buying one as long as possible, then saving up more cash for a down payment. 
You can also focus on building your credit back up during this time, thus further improving your chances of landing a great car loan for your situation.
Set the Expectation Early
Why get your hopes up on a car that's out of the price range for your financing? It's important to be aware of the situation you're in, and what kind of cars/trucks are realistic for your budget.
Use our pre-qualification tool on our site to see what options you have. You can browse our inventory to see which cars fit your need and budget.
This will expedite the entire process. We can help you find a car that meets your needs, while also fitting the parameters of your financing. That way, you're setting yourself up for success in the long run.
Work With the Best Bad Credit Auto Dealers in Wisconsin
Now that you have seen why Gates Auto is the best bad credit auto dealer in Wisconsin, be sure to use us to help you find your next car.
To get started, please read this article for more information on the trucks for sale in Madison, WI, and why you should buy a pre-owned truck.
For more inquiries, please begin by reaching out to us via phone at 920-463-3100 and we will be happy to assist you further.