The Right Car for Your Family: Used SUVs in Madison, WI
Posted Monday, Oct 04, 2021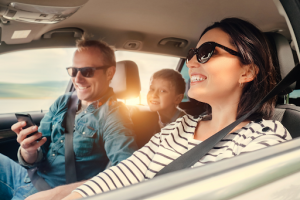 If you've been scouring the land for used SUVs in Madison, WI, then you're in for an enjoyable ride. This class has been evolving in leaps and bounds in recent years and it's so enjoyable to watch. 
In fact, many people believe the age of the car is gone now that the SUV has succeeded so wonderfully. 
Year after year, manufacturers find new ways to lighten the load while increasing passenger and cargo spaces. 
Even still, the rides become quieter and the interior bells and whistles continue to expand. It's the best way to transport the family in style, class, and comfort. 
In a sea of options, it was difficult to whittle things down to our top six. So, perhaps we won't call these our favorite used vehicles (because we have too many). But, on a long list of reliable transportation options, these six are major contenders for anyone who's vehicle shopping. 
Buick Enclave
With a Buick Enclave, you'll have the luxury that backs the name and the comfort that allows passengers to travel with ease. 
Here, you're looking at a V6 3.6-liter engine that can reach up to 25 highway miles. You'll also enjoy all the standard tech requirements to keep you hands-free and in control of your favorite playlists. 
But, what always catches our eye with this model from Buick is its handsome, sleek exterior. We love its rounded curves and copious chrome compliments.
Of course, it doesn't stop there, either. This model, in particular, is noted for its plentiful passenger and cargo space, as well. 
Cadillac XT5
Even though we gushed about the Buick's sleek exterior, the Cadillac XT5 is right there with it. It's not quite as rounded, but it holds the same sparkle and shine.
With its hallmark chrome trim and signature grill, any model Cadillac will stand a full head and shoulders above the crowd in the parking lot. 
What we love most about this model is its quiet interior. If you take some of the other used SUVs in this class, you'll notice the ride is a bit jostling (and far from quiet). 
But, not the XT5. And, while every passenger is riding in luxury, there's something else you can depend upon. The cargo bay will be able to hold every ounce of soccer equipment or birthday party supplies. 
Ford Explorer
The Ford Explorer has been a staple in every lineup of family vehicles for decades (and for good reasons).
It's reliable; it will last through the ages; every model looks better than the last. We've seen many Explorers start out as a family car and then turn into a teenager's first car; that's how long-lasting this model is. 
We love that Ford is generous with its tech features, too. Even in the standard models, you'll have plenty of bells and whistles for an enjoyable ride. If you can find it, there's even a twin-turbo V-6 option that we love. 
Still, like its friend the Enclave, you're looking at generous and spacious seating to keep the kiddos from picking on each other too much during their rides home from school.
Nissan Murano
The Nissan Murano takes an admirable step toward the luxury lineup of SUVs. It's rounded and sleek like the Enclave, boasts a lot of bells and whistles like the XT5, and offers a lot of power like the Explorer. 
Actually, the Nissan Rogue is one of the manufacturer's best-selling vehicles. But, we prefer the larger Murano which will still give you plenty of highway miles and better ground clearance. 
The Murano also has that signature floating roof which creates a more open effect. Many models are also equipped with a large touchscreen to navigate the road and your playlist. Indeed, this is Nissan's attempt at luxury, style, and space; they do it well. 
GMC Terrain
We love the GMC Terrain in the same way we love the Cadillac XT5. The body is stylishly unique. You'll know it's a GMC from the moment you spot the grill. 
While it's not rounded like an Equinox or a Murano, we still love it. After all, the goal of these family vehicles is not speed.
However, if it's power you're looking for, GMC delivers it on a silver tray. The Terrain comes with an available V-6 engine. But, other trim levels offer a turbocharged four-cylinder or a fuel-efficient diesel engine. So, the options abound in terms of power.  
And, of course, the interior holds up to the exterior, too, with its versatility, comfort, and space. There's plenty of passenger space to put everyone at ease and enough cargo room to store everyone's duffel bags and carry-ons. 
Chevrolet Equinox
We thought we'd end with a bang. We love the Equinox because it's a bit of a magic trick.
Back in 2018, they trimmed a little over four inches from the length and a few hundred pounds from the weight. We were gifted with a better-performing SUV that still boasted oodles of interior space; it really felt like a magic trick. 
Instantly, we were looking at a lighter load with a turbocharged four-cylinder that could attain 30 miles per gallon out on the highway. We were swooning. 
Of course, it also backs the brand name that lasts through the years. So, although the Equinox hasn't been around as long as the Explorer, we expect it to be passed down to the first teenager just the same. 
Safety also seemed to be a priority because there's a teen-driver system that can set speed warnings and maximum audio system volume in the vehicle's report card. Indeed, this SUV is a parent's dream whether you're children are still using car seats or you're handing over the keys. 
The Best Used SUVs in Madison, WI
You can't go wrong with any of these models. In truth, it will boil down to personal preference because each vehicle offers safety, reliability, and astute engineering.
If you're on the lookout for the best SUVs in Madison, WI, come on over and visit our showroom. Here at Gates Auto, we're proud to tout the title "Wisconsin's Largest Indoor Showroom." 
We have a wide array of various makes and models, including well-maintained and highly-reliable used SUVs.
Stop by our flagship location if you're in the Columbus, WI area and explore our inventory. We'll look forward to pairing your family with the perfect purchase.