Used Trucks for Sale in Madison, WI: Take Your Pick
Posted Tuesday, Aug 03, 2021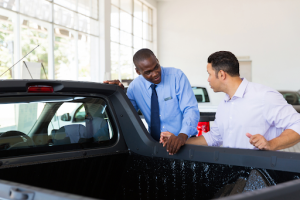 Buying a used truck can take a lot of hassle before getting the keys to your sweet ride. Sure, purchasing a used vehicle will certainly save you money in the long run, but how can you be sure you'll be getting a high-quality, reliable vehicle? 
At Gates Auto, we've built a car buying experience to make the used car search process as painless and transparent as possible. And as Wisconsin's largest showroom, we have used trucks available to fit your budget and tough truck standards! 
For the best used trucks for sale in Madison, WI, look no further than Gates Auto. Keep reading for an inside look at some of our inventory of used trucks.
Before You Try or Buy
Before browsing preowned trucks for sale, it's important to take stock of what exactly it is you're looking for in your new vehicle. Here are some factors to consider that'll save you time from researching used truck costs and features for hours on end.
First, ask yourself what you'll be using this truck for. Are you in need of a truck for towing purposes, and if so, how strong does the truck need to be? Is your truck a dream purchase, just meant to be driven for fun? 
After assessing the purpose of your truck, take a closer look at your budget.  Once you have an idea of a comfortable price range, you can use the filter option when searching our inventory at Gates Auto to sort used trucks by price.
Feel free to check out our blog for more in-depth used truck buying tips. Now, let's get to the action. Bring on the trucks!
Ford F150 Supercrew Cab
Did you know that the 2017 model of the Ford-F150 scored an 8.5 out of 10 rating from US News? This ranks the Ford-F150 number 2 in pickup trucks for the year 2017. If you're a Ford fan, you're in luck at Gates Auto with up to 12 used Ford trucks to choose from.
For the driver in need of a truck with great towing capabilities and powerful engines, the F150 Supercrew Cab may be right for you. This truck has it all in capability and comfort from traction control and power steering to heated and cooled leather seats.
In addition to the 2017 model, we carry used Supercrew cab models from 2010-2018. The Supercrew cab boasts a large seating capacity perfect for carting around a crowd. However, if you're not in need of that much space, the Ford F150 Super Cab is a great alternative option.
Take a look at our Ford options yourself, then come on in for a test drive. 
Chevrolet Silverado 1500 and 2500
We've got another #2 ranked used truck, this time for the 2011 Chevy Silverado 1500. The odometer on this vehicle is 37,994 miles below the market average, so you'll definitely get a bang for your buck!
The Silverado is known for its smooth, quiet ride and comfortable seats. This truck is made to be customized for your requirements. Bed lengths and trim levels can be configured to your liking, as well as a wide variety of other configurations.
In terms of safety, you're in great hands with this make and model. This vehicle is equipped with comprehensive standard safety equipment such as StabiliTrak, GM's electronic stability control system. 
Make sure you don't pass up our 2015 Chevrolet Silverado 2500 HD Crew Cab either! Special chrome features on the 2500 include a chrome appearance package, recovery hooks, and tubular assist steps. 
The 2015 Chevrolet Silverado will be the choice for you if you're also in need of a truck with a tow package. In addition, the 2015 Silverado also comes with a four-wheel anti-lock brake system (ABS).
Ram 1500 Crew Cabs
For the #1 full-size pickup truck of 2018, you're looking at the Ram 1500 Crew Cab. Even 2015, 2017, and 2019 models are highly rated for their above-average reliability ratings.
This is the perfect used pickup truck for the truck lover looking to have some fun in style. The Ram 1500 lacks in towing and hauling capabilities but makes up for it with an upscale interior and well-rounded driving dynamics. In fact, we've got a model with brand new 37" tires and aftermarket rims! 
For the 2018-2019 models, you'll find extra features like the standard rearview backup camera and Android Auto/Apple Car Play. We've got finishing options for this model, from colors like flame red clearcoat sport to pearl white.  
Toyota Tundra Crewmax
For the adventurous explorer, your perfect used truck could be the 2017 Toyota Tundra Crewmax. Our Tundra is priced below the KBB Fair Purchase Price. It sports active traction control and stability control and more standard features than rival competitors.
This make and model is unmatched in off-roading capabilities. Our Toyota Tundra in inventory comes with the TRD off-road package. This package includes off-road graphics and a 5-spoke off-road alloy, and trail-tuned shock absorbers. In short, the Toyota Tundra is tough enough to take on any terrain!
Used Trucks for Sale in Madison, WI
We hope you now know where to buy used trucks in Madison, Columbus, or Racine Wisconsin- Gates Auto, your #1 choice for quality pre-owned trucks. Along with our quality vehicles, we offer perks such as free delivery within 100 miles with new inventory coming in regularly.
Whether you're looking to off-road, tow, or take a spin around town, we've got the best-used trucks for sale in Madison, WI. You can find our inventory listed online complete with pictures, but we invite you to see these trucks in person to get the full experience.
Gates Auto also offers financing options for all budgets with a 99% credit approval rate! Visit our website to get pre-qualified for your upcoming used truck purchase. See you on the road!