What to Look for When Buying a Pre-Owned Ford in Columbus, WI
Posted Monday, Apr 05, 2021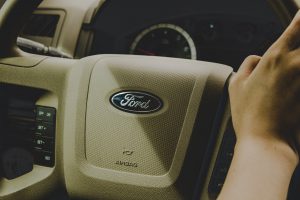 Are you a Ford guy or gal through and through? Are you currently looking for a certified pre-owned car? If so, then you need to know what to look for in a Ford in Columbus, WI. 
Doing so will help you land the best deal! If you know what to look for when searching for pre-owned Ford cars on the market, then you can have more confidence in the vehicle you end up purchasing.
See below for an in-depth guide on what to look for in a Ford in Columbus, WI, and why the factors listed below are so essential to your search.
1. A High-Quality Seller
If you're looking to purchase a pre-owned Ford in Columbus, WI, then you need to know you're purchasing from a reputable source.
Too many people simply go online, find the cheapest car available in the make and model they're interested in, and then schedule their visits off of it. However, upon arriving at the lot, they're greeted by a sketchy salesman who's only in it for the money.
If you're going to guarantee a good experience when shopping for your next pre-owned Ford vehicle, you have to prioritize finding a high-quality seller.
How can you do that? The most prevalent way is to Google the seller and read up on the online reviews that previous clients have left behind. 
Ask yourself a few questions while you read their comments. Do the customers seem satisfied with the service they received? Did they like the inventory? How confident were they in the buying process? 
You can also go to the seller's site and search their inventory. Do they have a good selection of pre-owned Ford vehicles? Here at Gates Auto, we purchase all our cars from dealers we know and trust. When you buy a Ford from us, you know it's got high value.
2. Solid Car History
It's easy to fall in love with a pre-owned Ford that you find on any lot. But can you say with confidence that you know where that car has been? Do you trust the seller enough to ensure that you aren't buying a car with a murky history?
Any time that you're looking into a pre-owned vehicle, you should check the car history report by looking up that car's VIN. 
Imagine the horror of purchasing a pre-owned Ford, driving it for a few days, then finding out that an expensive repair is awaiting you. 
Here at Gates Auto, we know where each car in our inventory has been. We have tremendous relationships in the dealer community and use those relationships to purchase our pre-owned vehicles.
We primarily purchase vehicles that are the product of a lease return or a new car trade. The dealers we work with provide us with information on previous owners, mileage, repairs, etc. 
We have extensive knowledge of the history of each car in our inventory. When you purchase a pre-owned Ford from us, you can have peace of mind, knowing that we've done our homework on each car.
3. Quality Condition
Any time that you're interested in a car, you should take a few walks around the vehicle to look for any signs of major damage.
As you walk around, we recommend that you look for things such as:
- Potential frame issues
- Worn-out tires
- Paint damage
- Rust
- Cracks in the glass
- Damage to the lights or lenses
Once the exterior has checked all of your boxes, take a gander at the interior and look for things like:
- Odor (such as a moldy or smoky smell)
- Condition of the ceiling
- The condition of the gas, brake, and clutch pedals
- The trunk
- Quality of the sound system
Lastly, we recommend that you pop the hood. Even if you aren't savvy with cars, you can still look for things to pass the eye test, such as the pre-owned Ford's radiator, battery, hose, belt, and fluids.
4. Schedule a Test Drive
You should never purchase a car without taking it for a test drive. This is the only way you can get a feel for the car while it's doing what it was meant to do: drive.
When looking for a Ford in Columbus, WI, be sure to visit a used car seller and test drive a few Ford vehicles that you're interested in. We recommend test driving at least 3 different vehicles. That way, you can get a feel for what you like.
While driving the Ford around Columbus, WI for your test drive, be sure to pay attention to the car's brakes, suspension, acceleration, and ability to move around.
5. Optimal Mileage
When looking at a pre-owned Ford (or any car, for that matter), it's important to factor in the mileage. Investing in one with too high of mileage is sabotaging your future.
Typically, experts say that the average driver tacks on around 12,000 miles per year. Use that as your gauge. Divide the car's age by its total accrued mileage.
Here at Gates Auto, we guarantee optimal mileage for each car in our inventory. Each of our cars is purchased from lease returns and new car trades, so you know you're getting the most bang for your buck.
Find Your Dream Pre-Owned Ford in Columbus, WI
Now that you have seen all of the different things to look for when buying a pre-owned Ford in Columbus, WI, it's important to use this to your advantage.
Please begin this process by taking the time to look through our inventory for all Ford vehicles and other makes that you might be interested in.
For any other inquiries that you may have, please be sure to reach out via our contact us page and we will be happy to assist you further.